THURSDAY 06.18.15 / 9 PM / $8
MACHINES WITH MAGNETS / 400 MAIN ST. / PAWTUCKET, RI
CTRL+ALT+REPEAT is an experimental music series that was founded in 2004 by Mark + Laura Cetilia out of an interest in exploring the intersections of electronic music, improvisation, contemporary classical music, and sound art. This edition will feature performances by Will Guthrie, Titans of Jazz, André Cormier's Hic et Nunc interpreted by cellists Emily Dix-Thomas and Laura Cetilia, and Philip Glass' Strung Out by Chase Spruill.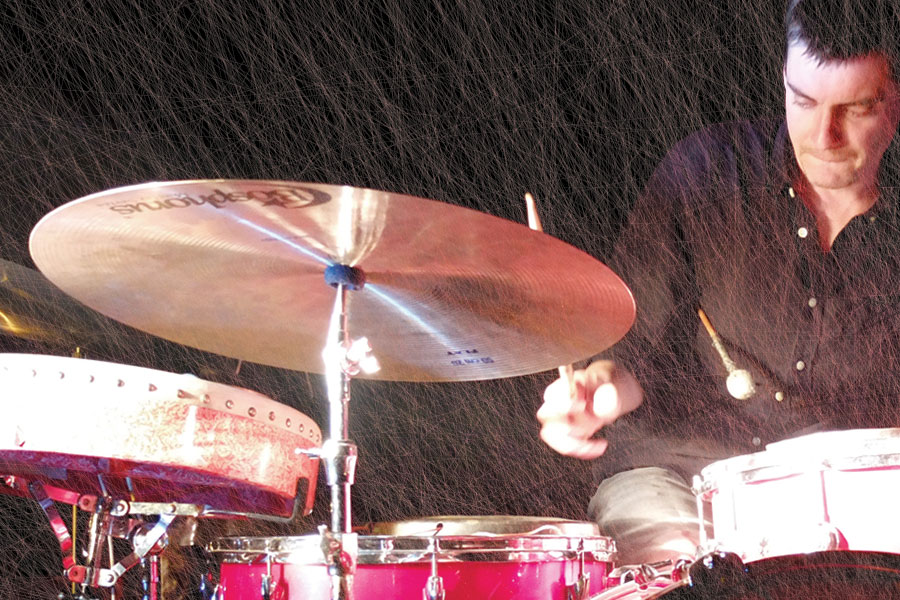 Will Guthrie is an Australian drummer / percussionist living in France. He works in many different settings of music: live performance, improvisation and studio composition using various combinations of drums, percussion, objects, junk, amplification and electronics..
He plays solo and in various projects such as THE AMES ROOM, ELWOOD & GUTHRIE & THE SOMMES ENSEMBLE. His music has been released on labels such as Gaffer Records, Erstwhile, Clean Feed, 23five, Editions Mego, Ipecac, iDEAL and his own label Antboy Music.
While studying jazz and improvised music(s) at the Victorian College of the Arts in Melbourne, alongside Ren Walters he started the weekly concert series 'Improvised Tuesdays', now known as the Make It Up Club and is Australia's longest running performance space dedicated to experimental and improvised musics. In Nantes, France he is part of the collective CABLE# which also organizes regular concerts and an annual festival. He also runs the experimental improvised CD label and mail-order service; ANTBOY MUSIC.
He plays solo using different combinations of drums, percussion, amplification and electronics, in minimalist/maximalist free jazz trio THE AMES ROOM (with Jean-Luc Guionnet & Clayton Thomas), in appalachian mutant folk duo ELWOOD & GUTHRIE (with Scott Stroud), as well as the improvised/composed ensemble THE SOMMES ENSEMBLE (with Pierre-Antoine Badaroux, Julien Desperez & Maxime Petit).
Regular collaborators past and present include Jérôme Noetinger, David Maranha, Keith Rowe, Anthony Pateras, Toma Gouband, Erell Latimier, Ava Mendoza, Adam Sussmann, Matt Earle, Ren Walters, Jean-Philippe Gross, Greg Kingston, Helmut Schafer, David Ades, Mark Simmonds …



Titans of Jazz is the collective brain trust of Luke Moldof and Mark Cetilia. Tonight's performance will consist of dual reel-to-reel + acoustic / electronic objects.
Luke Moldof is an electronic musician based out of Providence, Rhode Island. He received a BM from the New England Conservatory of Music. His current work utilizes flexible real-time modular electronic systems that split the difference between composition and improvisation through complex feedback loops and varying degrees of controlled randomness. Often these systems are made to respond to or coincide with the outside influence of reel to reel tape loops, field recordings, and prepared guitar improvisations. Moldof has performed at venues including Issue Project Room, The Stone, and lots of people's basements.
Mark Cetilia is a sound / media artist working at the nexus of analogue and digital technologies. Exploring the possibilities of generative systems in art, design, and sound creation, Cetilia's work is an exercise in carefully controlled chaos. Over the past decade, he has worked to develop idiomatic performance systems utilizing custom hardware and software, manifesting in a rich tapestry of sound and image. Mark is a member of the electroacoustic ensemble Mem1 and the experimental media art group Redux, recipients of a 2006 Creative Capital grant for their Callspace installation. He received his MFA from the Rhode Island School of Design in 2008, and is currently pursuing his Ph.D in computer music and multimedia at Brown University. He has taught classes and workshops on sound, media art and programming at RISD, Brown University, OpenToko (Amersfoort, NL), and the TELIC Arts Exchange (Los Angeles, CA).
Cetilia's work has been screened / installed at the Institute of Contemporary Arts (London, UK), the Ben-Ari Museum of Contemporary Art (Bat Yam, IL), R.K. Projects (Providence, RI), the Atlantic Center for the Arts (New Smyrna Beach, FL), and SoundWalk (Long Beach, CA). He has performed widely at venues including Café OTO (London, UK), the Borealis Festival (Bergen, NO), STEIM (Amsterdam, NL), the REDCAT Theater at Disney Hall (Los Angeles), Roulette (NYC), Goethe-Institut (Boston), Menza Pri Koritu (Ljubljana, SI), Issue Project Room (Brooklyn, NY), Uganda (Jerusalem, IL), the San Francisco Electronic Music Festvial, Sound of Mu (Oslo, NO) and Electronic Church (Berlin, DE). His solo sound works have been published by Iynges, Anarchymoon, Quiet Design, and the Estuary Ltd. imprint, which he runs together with his partner Laura Cetilia.



André Cormier was born in Moncton, New Brunswick. He began making music with a guitar. In 1995, he gave up the guitar for good, left his native Acadie and began a BMus. in music composition at the University of Victoria, British Columbia. His teachers at UVic included John Celona, Christopher Butterfield and Michael Longton. After graduating from UVic in 1999, André attended the California Institute of the Arts where he received an MFA in composition. At Calarts he worked with James Tenney, Michael Pisaro and Morton Subotnick. He has also collaborated with visual artists, animators, writers, and choreographers.
In 2002, Cormier was a featured composer at Okiro's New and Improvised Music series in Hollywood, CA. In May 2003, harpist Susan Allen premiered his Piling Sand – Piling Stone, a 90-minute work for solo harp and 6-minute delay loop, at the Roy O. Disney Hall. André co-founded the artist collective OXO in Brooklyn, NY in 2003 and founded Ensemble Ordinature in Vancouver in 2004 and has since served as its artistic director. His work has been presented by performers and ensembles in Canada and the US including Motion Ensemble, New Brunswick; Lost Dog New Musik Ensemble, New York; OXO Ensemble, Brooklyn; New Century Players, Valencia; cellist Jessica Catron and harpist Susan Allen, among others. Recently, one movement (60 minutes) of his 12 hour 'Horaires: volume 1′ was premiered at Kenyon College in Ohio by members of the OXO ensemble, followed by a broadcast of the performance on Wandelweiser Web Radio. In April, André worked with Quatuor Bozzini on string quartets 'Tammy Powder' and 'Forme uniche de continutia nello spazio' after being selected to attend the Composer's Kitchen in Montréal.
He is currently working on several commissions including an opera with librettist Louise Brissette, chamber music for ensembles in Canada, Germany and the US, as well as an upcoming release by Ensemble Ordinature. His compositions treat time as rubber bands.
Emily Dix Thomas is a cellist, composer, teacher, and songwriter. She collaborates with a wide range of artists including puppeteers, performance artists, poets, and filmmakers. She currently records and performs with Correspondences and Datura, and has toured nationally and internationally with Vio/Miré and The Young at Heart Chorus. Emily lives in Providence, Rhode Island, and works in the gum industry.
Born and raised on the east side of Los Angeles, Laura Cetilia leads the life of a chamber and orchestral musician, concert presenter, electronic musician, and music educator. Classically trained, Laura graduated with distinction from the School of Music at Indiana University and received her Master's degree in cello performance from Wichita State University where she was awarded a position with the Graduate String Quartet. In Spring 2011, she worked with composer David Behrman during a residency at Atlantic Center for the Arts where she also collaborated with video artist Naho Taruishi on the audiovisual piece Corner Projection No. 6. As a soloist, she is comfortable working with and without electronics, most recently at the PHI Centre in Montreal as part of a series of performances organized in conjunction with the Ryoji Ikeda exhibition. In addition to her solo work, she is a member of the electroacoustic ensemble Mem1 with partner Mark Cetilia, and performs avant-garde chamber music with violist Robin Streb in their duo Suna No Onna. Suna No Onna has premiered works by composers André Cormier, Jürg Frey and Antoine Beuger in performances throughout Canada, the U.S. and Europe. Laura is also a member of the Eastern Connecticut Symphony Orchestra and New Bedford Symphony. Laura is a Resident Musician at Community MusicWorks, a non-profit organization that provides free after-school music education programs for children in urban neighborhoods of Providence, RI.



Philip Glass is among the most innovative and influential composers of the 20th century. Postmodern music's most celebrated and high-profile proponent, his myriad orchestral works, operas, film scores and dance pieces proved essential to the development of ambient and new age sounds, and his fusions of Western and world music were among the earliest and most successful global experiments of their kind. Educated at Julliard, and a student of Nadia Boulanger, Glass' admitted artistic breakthrough came while working with Ravi Shankar on transcribing Indian music; the experience inspired him to begin structuring music by rhythmic phrases instead of by notation, forcing him to reject the 12-tone idiom of purist classical composition as well as traditonal elements including harmony, melody and tempo. Glass' growing fascination with non-Western musics inspired him to hitchhike across North Africa and India, finally returning to New York in 1967. Glass rose to international fame with his 1976 "portrait opera" Einstein on the Beach, a collaboration with scenarist Robert Wilson. An early masterpiece close to five hours in length, it toured Europe and was performed at the Metropolitan Opera House; while it marked Glass' return to classical Western harmonic elements, its dramatic rhythmic and melodic shifts remained the work's most startling feature. In addition to his theatrical productions, Glass is widely known for his film scores and recordings with David Byrne, Suzanne Vega, Paul Simon and Laurie Anderson.
Chase Spruill, violinist, was an artist-in-residence at Sacramento State University before becoming a resident musician at CMW in 2012. As an advocate for education and contemporary chamber music, he's collaborated with notable artists in field such as composers Steven Mackey, Alexandra Gardner and Michael Nyman. He currently tours as a duo with pianist and longtime director of the Philip Glass Ensemble Michael Riesman, premiering and recording new Philip Glass concert works for violin and piano arranged especially for the pair. In addition to a career in music, he has also won acclaim as a budding screenwriter, taking 2nd place in the 2009 Slamdance Teleplay Competition for an original television pilot script he wrote. The award led to him developing scripts for the Ilya Salkind Company, Silver Pictures and Warner Bros.