FRIDAY 12.06.13 / 9 PM / $8
MACHINES WITH MAGNETS / 400 MAIN ST. / PAWTUCKET, RI
CTRL+ALT+REPEAT is an experimental music series that was founded in 2004 by Mark + Laura Cetilia out of an interest in exploring the intersections of electronic music, improvisation, contemporary classical music, and sound art. The fourteenth edition of the series will feature the US premiere performance by Frank Bretschneider of his work Kippschwingungen for Subharchord and Clavia Micro Modular alongside performances by Work / Death, Area C, and Intimacy & Intrigue alongside four short "Instrument and Noise" works by Peter Ablinger performed by Caroline Park, Luke Moldof, David Lee and Laura Cetilia.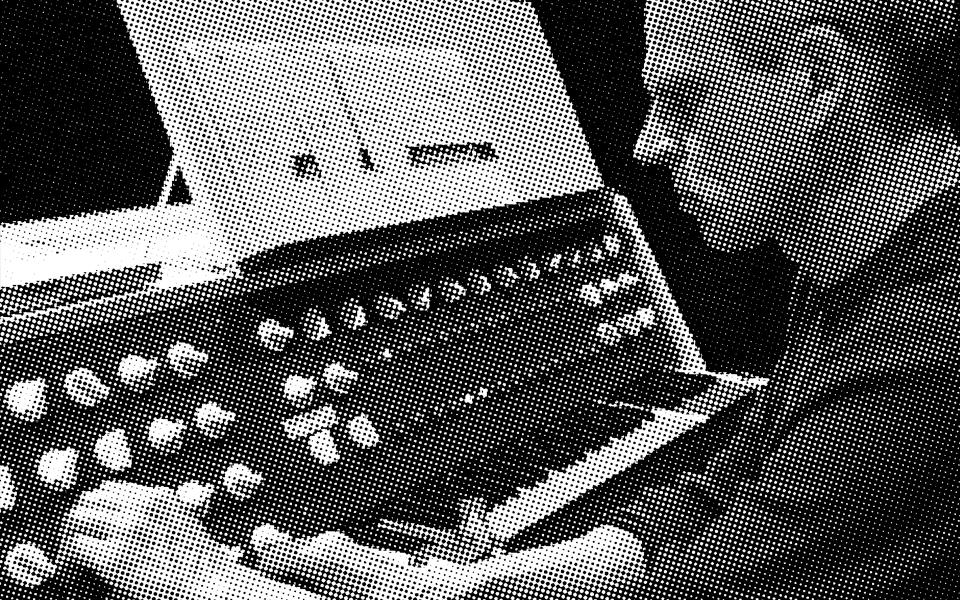 Frank Bretschneider is a musician, composer and video artist in Berlin. His work is known for precise sound placement, complex, interwoven rhythm structures and its minimal, flowing approach. Described as »abstract analogue pointilism«, »ambience for spaceports« or »hypnotic echochamber pulsebeat«, Bretschneider's subtle and detailed music is echoed by his visuals: perfect translated realizations of the qualities found in music within visual phenomena. He is releasing his music and performing at music/new media festivals worldwide.
Bretschneider (1956) was raised in Karl-Marx-Stadt (Chemnitz since 1990), where his aesthetic developed as he listened to pirate radio and smuggled Beastie Boys tapes in the former East Germany. After studying fine arts and inspired by science fiction radio plays and films he began experimenting with tape machines, synthesizers, and modified guitars in 1984, as well as exploring the possibilities of exchange between visual art and music by various means such as film, video and computer graphics.
In 1986, after establishing his cassette label klangFarBe, Bretschneider founded AG Geige, a successful and influential East German underground band. Though limited to the East before the wall came down, they were invited to perform across Germany and internationally after 1989 and released three albums before splitting in 1993.
In 1995, Bretschneider and fellow AG Geige member Olaf Bender founded the Rastermusic record label which eventually merged with Carsten Nicolai's noton to form raster-noton in 1999.
KIPPSCHWINGUNGEN
In 2007, Frank Bretschneider was invited to compose music for the Subharchord, a unique electronic instrument developed during the 1960's at the RFZ, the technical center for radio and television of the East German postal service. Built in a limited edition of eight machines total, only three Subharcords (in Vienna, Trondheim and Berlin) are believed to survive to this day. The Subharchord is, broadly defined, a subharmonic sound generator, comparable soundwise to the Mixturtrautonium. It's suggested main purpose was to be the central "special effects" machine at film or broadcast studios.
Bretschneider's aim was to combine an almost forgotten technology with the music and production methods of today. After two weeks of exploring the instrument and excited by the beautiful and extremely powerful sound, he decided to use mainly the extraordinarily narrow-band "Mel"-filter and the built in "Rhythmisierungseinrichtung" (rhythmization installation). For additional modulation, Bretschneider used a Clavia Micro Modular, generating alternating sinewaves on the ring modulator input of the instrument.
The first performance took place in June 2007 in Berlin, Germany, as part of the TESLA-Werkstatt Klangapparate project, followed by a second concert in November the same year at Wien Modern festival in Vienna, Austria.



Providence, Rhode Island based Work/Death, operated by Scott Reber, is an intersection of musique concrete, electro-acoustic improv and composition, field recording, drone, harsh noise, physical performance, and the pop song. As the name suggests it is a labor of determination, focus, and quality accumulating over a lifetime. For the past 10 years he has synthesized sounds of the 20th century. His multimodal composition process navigates effortlessly between the intellectualist avant garde and the noise underground with its violent removal of musical structures. paraphrasing reber himself, "David Tudor or Alvin Lucier as prototype wall noise via early mapping of crunch, crumble, cracks, crackle, ruptures, space, and moving air that would later be central to The Rita, Macronympha." Work/Death exemplifies the subtlety of pain and the intensity of tenderness. Garbage in. Garbage out.



Erik Carlson is a composer, media artist and architect based in Providence, RI. His work examines sound as an evocative presence, often acting as a marker, in the physical and mental spaces we inhabit. Since 2002 he has been recording and performing under the name Area C, whose compositions work with timbre, texture and live loops, exploring cyclical relationships and the details of their decay over time. Improvisation plays an important part in both recordings and live performances, encompassing extended explorations of minimal rhythm and melody, drawing on remnants of other times and places, outdated and untested technologies, signals sent out but never received.
In 2009, Carlson received the MacColl-Johnson Fellowship in music composition and he is currently working on new commissions for the NASA RI Space Grant Consortium and the LEF Foundation. In 2010 he composed the score for the Emmy-nominated documentary, "Witness: Katrina," which premiered on the National Geographic Channel. His permanent sound installation ("Low Rez/Hi Fi," a collaboration with architect Meejin Yoon) can be viewed at 1110 Vermont Avenue in Washington DC.
Area C's sixth full-length CD, titled "Map of Circular Thought," was released in January 2011 on Preservation Records (Australia). Previous releases include "The Planetarium Project" on Sedimental (a double CD of four live collaborative performances at the Cormack Planetarium in Providence, RI), and full-length albums on Students of Decay, Sloow Tapes, and Last Visible Dog.



Intimacy & Intrigue is a new project initiated by Ctrl+Alt+Repeat co-founder Laura Cetilia; this performance will feature guests Sakiko Mori and Mark Cetilia.
Born and raised on the east side of Los Angeles, Laura Cetilia leads the life of a chamber and orchestral musician, concert presenter, electronic musician, and music educator. Classically trained, Laura graduated with distinction from the School of Music at Indiana University and received her Master's degree in cello performance from Wichita State University where she was awarded a position with the Graduate String Quartet. In Spring 2011, she worked with composer David Behrman during a residency at Atlantic Center for the Arts where she also collaborated with video artist Naho Taruishi on the audiovisual piece Corner Projection No. 6. As a soloist, she is comfortable working with and without electronics, most recently at the PHI Centre in Montreal as part of a series of performances organized in conjunction with the Ryoji Ikeda exhibition. In addition to her solo work, she is a member of the electroacoustic ensemble Mem1 with partner Mark Cetilia, and performs avant-garde chamber music with violist Robin Streb in their duo Suna No Onna. Suna No Onna has premiered works by composers André Cormier, Jürg Frey and Antoine Beuger in performances throughout Canada, the U.S. and Europe. Laura is also a member of the Eastern Connecticut Symphony Orchestra and New Bedford Symphony. Laura is a Resident Musician at Community MusicWorks, a non-profit organization that provides free after-school music education programs for children in urban neighborhoods of Providence, RI.
Multi-instrumentalist Sakiko Mori grew up in Japan and graduated from Berklee College of Music in 2004. She has collaborated with a wide array of musicians and groups in performance, recordings, films, animations, dance, and theatre. Sakiko currently lives in Providence, RI where she performs and records with Ashley Paul as part of Paul & Maurey, in Daily Life with Christopher Forgues (Kites, Mark Lord), Make A New Memory (with Geoff Mullen). In the past she has worked with Cybele Collins (Blue Shift), Eli Keszler, Jeremy Harris (Lazy Magnet), and Scott Reber (Work/Death).
Mark Cetilia is a sound / media artist working at the nexus of analogue and digital technologies. Exploring the possibilities of generative systems in art, design, and sound creation, Cetilia's work is an exercise in carefully controlled chaos. Over the past decade, he has worked to develop idiomatic performance systems utilizing custom hardware and software, manifesting in a rich tapestry of sound and image. Mark is a member of the electroacoustic ensemble Mem1 and the experimental media art group Redux, recipients of a 2006 Creative Capital grant for their Callspace installation. He received his MFA from the Rhode Island School of Design in 2008, and is currently pursuing his Ph.D in computer music and multimedia at Brown University. He has taught classes and workshops on sound, media art and programming at RISD, Brown University, OpenToko (Amersfoort, NL), and the TELIC Arts Exchange (Los Angeles, CA). Cetilia's work has been screened / installed at the Institute of Contemporary Arts (London, UK), the Ben-Ari Museum of Contemporary Art (Bat Yam, IL), R.K. Projects (Providence, RI), the Atlantic Center for the Arts (New Smyrna Beach, FL), and SoundWalk (Long Beach, CA). He has performed widely at venues including Café OTO (London, UK), the Borealis Festival (Bergen, NO), STEIM (Amsterdam, NL), the REDCAT Theater at Disney Hall (Los Angeles), Roulette (NYC), Goethe-Institut (Boston), Menza Pri Koritu (Ljubljana, SI), Issue Project Room (Brooklyn, NY), Uganda (Jerusalem, IL), the San Francisco Electronic Music Festvial, Sound of Mu (Oslo, NO) and Electronic Church (Berlin, DE). His solo sound works have been published by Iynges, Anarchymoon, Quiet Design, and the Estuary Ltd. imprint, which he runs together with his partner Laura Cetilia.



Peter Ablinger was born in Schwanenstadt, Austria in 1959. He first studied graphic arts and became enthused by free jazz. He completed his studies in composition with Gösta Neuwirth and Roman Haubenstock-Ramati in Graz and Vienna. Since 1982 he has lived in Berlin, where he has initiated and conducted numerous festivals and concerts. In 1988 he founded the Ensemble Zwischentöne. In 1993 he was a visiting professor at the University of Music, Graz. He has been guest conductor of 'Klangforum Wien', 'United Berlin' and the 'Insel Musik Ensemble'. Since 1990 Peter Ablinger has worked as a freelance musician. Since 2013 research professor at the University Huddersfield.
Festivals at which Peter Ablinger's compositions have been performed include the Berlin and Vienna Festwochen, Darmstadt, Donaueschingen, and festivals in Istanbul, Los Angeles, Oslo, Buenos Aires, Hong Kong, London, New York.
The Offenes Kulturhaus Linz, the Diözesanmuseum Köln, Kunsthalle Wien, Neue Galerie der Stadt Graz, the Kunsthaus Graz, the Akademie der Künste Berlin, the Haus am Waldsee Berlin, the Santa Monica Museum of the Arts have showed his installation work over the last few years.
Peter Ablinger is one of the few artists today who uses noise without any kind of symbolism – not as a.signifier for chaos, energy, entropy, disorder, or.uproar; not for opposing something, or being.disobedient or destructive; not for everything, for.eternity, or for what-have-you. As in all these cases.of music deliberately involving noise, noise is the.case, but for Ablinger: this alone. Peter Ablinger has.also come a long way in questioning the nature of.sound, time, and space (the components usually thought.central to music), and his findings have jeopardized.and made dubious conventions usually thought.irrefutable. These insights pertain to repetition and.monotony, reduction and redundancy, density and.entropy.
"Sounds are not sounds! They are here to distract the intellect and to soothe the senses. Not once is hearing 'hearing': hearing is that which creates me." The composer Peter Ablinger (born in Schwanenstadt, Austria in 1959) is, as Christian Scheib once put it, a "mystic of enlightenment" whose "calls and litanies are aimed at cognition." At the same time, the composer, who – after studying graphic arts – studied with Gösta Neuwirth and Roman Haubenstock-Ramati, and since 1982 lives in Berlin, is also a skeptic who understands the cultural rules and (destructive) habits enforced by tradition: "So let us play further and say: sounds are here to hear (-but not to be heard. That's something else). And that hearing is here to be ceased ('Das Hören ist da um aufzuhören'). More I can't say." (Text: Christian Baier, translated by Bill Dietz)
TWO STRINGS AND NOISE
performed by David Lee (violin) & Laura Cetilia (cello)
"… and the other thing is about the pop. It appears also in other pieces (first in "accordion and noise", and a direct forerunner of "2 strings and noise" is the "suprematistic story" from "The Orchestra", 2nd act of the Cityopera Graz), for me the pop is still related to this very general idea of white noise-concepts: The "everything allways". The first part, the "everything", is clear: White noise is all frequencies at once. But the other part, the "allways" many times lead me to the question: how LONG is "allways"? I have worked with many different ways to try to answer this impossible question. One of this "answers" was the decision for the shortest possible time, – everything, but almost no time – the pop.
And, as this pop allways appears together with a long sustained note, (or: a variation of such a sustained note, or: an endless slow motion of descending tone-steps…) the other – somehow related – thought one can discover within the graphical representation behind this: The sustained note is the horicontal, the pop is the vertical: simply a cross." (Peter Ablinger)
VIOLINE UND RAUSCHEN ("VERONICA")
performed by David Lee (violin)
The first in the series of pieces for instruments and noise. A piece about complementary noise, about disappearing, about audibility.
The language of form in this pieces the composer sometimes decribes as "suprematistic" (after Melewitch), because of its use of "geometric" elements, like the surface, the line, the dot, which appear in sequences of a kind of "abstract" narration.
David Lee is a third-year student at Brown University, studying computer science and electronic music. He enjoys thinking about the future and playing with his computer.
KLEINE TROMMEL UND UKW-RAUSCHEN ("CONCEPTIO")
performed by Caroline Park (snare drum)
1 small snare drum, with little resonance, to allow the finest possible difference to the FM-noise. The radio receives white noise – and no station. But if you suceed by ABSOLUTELY INPERCEPTIBLY mixing in a bit of a station, then it is allowed: as an inperceptible irritation; one may not be shure; one might miss it; BETTER ONLY AS WHITE NOISE rather than a recognizable signal!
From 8 loud ossia-beats on snare drum written in the score a maximum of only one per performance is played and, in every performance another of the ossia-beats. Or OFTEN NO ONE. (And, only "once in a life time" of an interpretor – and only if he/she had played the piece several times – maybe 2 beats). (From: score, description, translated by Bill Dietz, edited by Austin Buckett)
Caroline Park is a composer, musician, and artist who works primarily within minimal means in experimental performance and installation. Her latest release, field, was recently described by Marc Weidenbaum (Disquiet) as music existing "in an abstract zone, where space bends and algorithms are allowed bountiful time to work their fractal, generative beauty." As a composer-performer, she has shared the stage with artists including Mem1, Steve Roden, a canary torsi, Evidence, Dollshot, and Arnold Dreyblatt, and has worked with a variety of ensembles and performers including the Callithumpian Consort, Sound Icon, Los Angeles Children's Chorus, cellist Laura Cetilia, and pianists Stephen Drury and Yukiko Takagi. Her music has been performed by herself and other musicians at venues including The Invisible Dog, the Stone, 295 Douglass, 16 Beaver, and ISSUE Project Room (NYC), Granoff Center for the Creative Arts, RISD Museum, and AS220 (Providence), Jordan Hall, Goethe Institut-Boston, Boston Center for the Arts, and Studio Soto (Boston), Ambassador Auditorium (Los Angeles), and the Pulitzer Foundation for the Arts (St. Louis, MO), in concerts curated by CTRL+ALT+REPEAT, R.K. Projects, Pauline Oliveros, ((audience))'s Sound Off, Non-Event, Saint Louis Symphony's Urban Alchemy, Together: New England Electronic Music Festival, Musicacoustica Beijing, SICPP: Summer Institute for Contemporary Performance Practice, Boston Microtonal Society, and Boston CyberArts. Caroline is 1/4 of BUMPR (with Peter Bussigel, Stephan Moore, and Timothy Rovinelli) and is 1/2 of a collaborative duo project with Asha Tamirisa. She is also a founding member of opensignal, a group of artists concerned with the state of gender and race within electronic and computer-based art practices. A Los Angeles native, Caroline received B.M. and M.M. degrees in composition at the New England Conservatory and is currently a Ph.D. candidate in Multimedia and Electronic Music Experiments at Brown University (MEME@Brown). Solo releases can be found on cassette, CD, 7″, and in digital formats via labels Private Chronology, Bathetic Records, Visceral Media Records, Pure Potentiality Records, Absence of Wax, and Single Action Rider. Her 2011 cassette Adrift was recommended by Steve Smith (Son of / Night After Night) for anyone "interested in long-form, slow-drifting electronic buzz, crackle and drift." Caroline lives and works in Providence, RI.
ORGEL UND WELTEMPFÄNGER
performed by Luke Moldof (organ)
A piece for organ and a small FM-receiver tuned beteen two stations and receiving noise "from the ether."
Luke Moldof is an electronic musician based out of Providence, Rhode Island. He received a BM from the New England Conservatory of Music. His current work utilizes flexible real-time modular electronic systems that split the difference between composition and improvisation through complex feedback loops and varying degrees of controlled randomness. Often these systems are made to respond to or coincide with the outside influence of reel to reel tape loops, field recordings, and prepared guitar improvisations. Moldof has performed at venues across the United States and has collaborated with artists such as Greg Kelley, Joe Morris, Vic Rawlings, Keith Fullerton Whitman, Howard Stelzer, CF, and Stephen Drury's Callithumpian Consort. He is a member of the experimental electronic duo, Perispirit alongside Ricardo Donoso, as well as the deceased power electronic duo Craniopagus, with Jesse Ward. He has released recordings on Hospital Productions, Digitalis Industries, Ecstatic Peace, Ekhein, and his own most likely defunct Razors and Medicine imprint, amongst others.