FRIDAY 03.23.12 / 8 PM / $5 – 15 SLIDING SCALE DONATION
THE ARSENAL / 176 BENEFIT STREET / PROVIDENCE, RI
Ctrl+Alt+Repeat, in conjunction with Community MusicWorks, will present a concert in commemoration of the John Cage centennial at the Benefit Street Arsenal on Friday, March 23. The evening's performances will feature some of Cage's works for strings, voice (sung and spoken), percussion, and electronics, realized by local musicians, the CMW Players, and CMW students in the experimental music / media lab. The program includes a performance of Vocalise for a Man with a Twelve-Tone Name (1982) by Katherine Bergeron, who gave its premiere in 1983 at Wesleyan University's retirement concert for Richard Winslow. Also on this program are two of Cage's "number pieces" written in the last six years of Cage's life: Three² (1991) for three percussionists and Four (1988) for string quartet, performed by the CMW players. Also featured is Radio Music (1956), performed by Mark Cetilia, and selections from Cage's Song Books (1970) and Indeterminacy: New Aspects of Form in Instrumental and Electronic Music (1959), performed simultaneously by CMW students and local composer Forrest Larson. The evening will culminate in a performance of For Cage 99 by Chicago-based composer Nomi Epstein, a piece that invites the audience to contemplate an excerpt from Cage's writing "On Robert Ruschenberg, Artist, and His Work" (from Silence, 1961). Come play a part in an eclectic evening of music and celebrate the 100th birth year of one of the most original thinkers of the 20th century.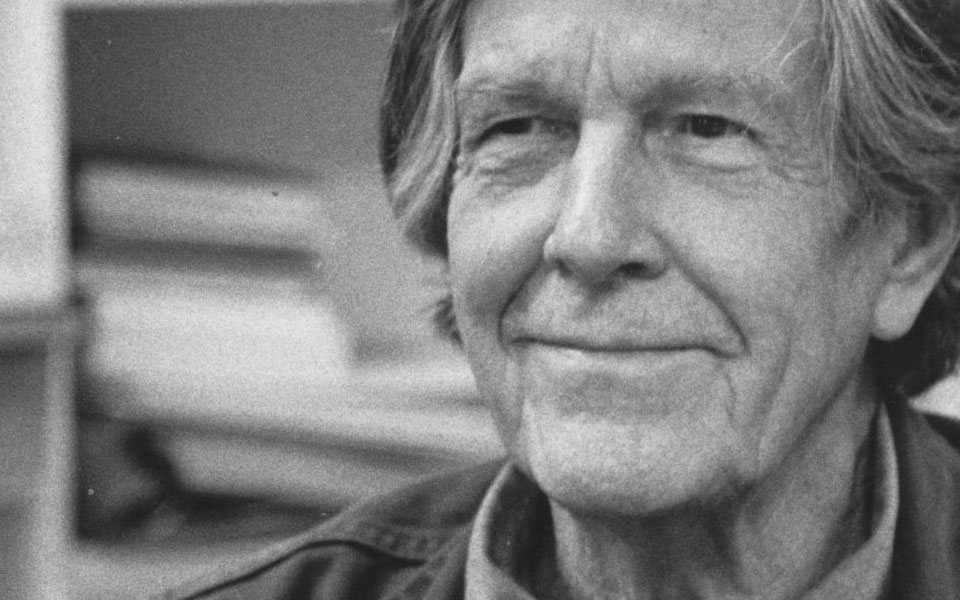 John Milton Cage Jr. (September 5, 1912 – August 12, 1992) was an American composer, philosopher, poet, music theorist, artist, printmaker, and amateur mycologist and mushroom collector. A pioneer of chance music, electronic music and non-standard use of musical instruments, Cage was one of the leading figures of the post-war avant-garde. Critics have lauded him as one of the most influential American composers of the 20th century. He was also instrumental in the development of modern dance, mostly through his association with choreographer Merce Cunningham, who was also Cage's romantic partner for most of their lives.
Cage is perhaps best known for his 1952 composition 4'33", the three movements of which are performed without a single note being played. The content of the composition is meant to be perceived as the sounds of the environment that the listeners hear while it is performed, rather than merely as four minutes and thirty three seconds of silence, and the piece became one of the most controversial compositions of the twentieth century. Another famous creation of Cage's is the prepared piano (a piano with its sound altered by placing various objects in the strings), for which he wrote numerous dance-related works and a few concert pieces, the best known of which is "Sonatas and Interludes" (1946–48).
His teachers included Henry Cowell (1933) and Arnold Schoenberg (1933–35), both known for their radical innovations in music, but Cage's major influences lay in various Eastern cultures. Through his studies of Indian philosophy and Zen Buddhism in the late 1940s, Cage came to the idea of chance-controlled music, which he started composing in 1951. The I Ching, an ancient Chinese classic text on changing events, became Cage's standard composition tool for the rest of his life. In a 1957 lecture, Experimental Music, he described music as "a purposeless play" which is "an affirmation of life – not an attempt to bring order out of chaos nor to suggest improvements in creation, but simply a way of waking up to the very life we're living".
VOCALISE FOR A MAN WITH A TWELVE-TONE NAME (1983)
John Cage composed "Vocalise for a Man with a Twelve-Tone Name" for the occasion of Richard Winslow's retirement from Wesleyan University in 1983. The piece is based on the 12 letters (or "tones") of Winslow's signature: RICHARD K WINSLOW. I premiered the piece at Crowell Concert Hall in May 1983 for the retirement concert. I don't think it has ever been performed again. The score to the piece, in Cage's hand, was preserved in a festschrift volume also published for the retirement event. On the opposite page there is a poem titled "Wishful Thinking" — actually a mesostic — also in Cage's hand, and also based on the twelve letters of Winslow's name. These two pieces constituted Cage's retirement gift to Winslow.
Richard Winslow was a composer and choral conductor who taught at Wesleyan from the 1940s to the early 80s. He was also my composition teacher and mentor when I was an undergraduate at Wesleyan, and he personally introduced me to Cage. At Wesleyan he is known for many things, chief among them the creation of the world music program in the early 1960s, a program that was itself inspired by Cage's expansive ideas about music. Winslow was responsible for bringing Cage to Wesleyan for teaching stints, once in the 1960s and again the 1970s, and the two remained close friends until the end of Cage's life. Cage writes about Winslow in the preface to Silence, and Winslow published a very nice essay about Cage in Larry Sitsky's "Music of the Twentieth-Century Avant Garde". (Notes by Katherine Bergeron)
THREE² (1991)
For three percussionists (for three numbered but not specified instruments), dedicated to Michael Pugliese and the Talking Drums. Premiered October 25, 1991 at the Kitchen, New York City. Performed by Kory Grossman, Michael Hinton and Michael Pugliese with Solo from Loops, danced and choreographed by Merce Cunningham.
SELECTIONS FROM SONG BOOKS (SOLOS FOR VOICE 3-92) (1970)
For one or more voices, dedicated to Cathy Berberian and Simone Rist. Premiered October 26, 1970 at the Theâtre de la Ville, Paris, France. Performance by Cathy Berberian, Simone Rist and John Cage.
SELECTIONS FROM INDETERMINACY: NEW ASPECTS OF FORM IN INSTRUMENTAL AND ELECTRONIC MUSIC (1959)
90 one-mintue stories written by John Cage. Released as a recording in 1959 with readings by John Cage along with music by David Tudor and Cage.
RADIO MUSIC (1956)
For one to eight performers, each at one radio. Premiered May 30, 1956 at the Carl Fisher Hall in New York City. Performance by John Cage, Maro Ajemian, David Tudor, Grete Sultan and the four members of the Juilliard String Quartet.
FOUR (1988)
For string quartet. Premiered November 24, 1989 at the Contemporary Music Festival in Huddersfield, performed by the Arditti String Quartet and dedicated to them.
There is no overall score, but 4 parts, each of which can be performed by any of the players. Every part consists of three five-minute sections (A, B and C), each with flexible time brackets and one fixed time bracket. In a performance, parts have to be exchanged and repeated by another player after finishing one or more sections.
Nomi Epstein is active as a composer, curator/performer of experimental music, and music educator. Past commissions have come from the CSO cellist, Katinka Kleijn, the internationally renowned guitarist, Seth Josel, The Old Town School, Noble Fowl Trio, Ensemble Décadanse, the New England Conservatory Percussion Ensemble, David Kalhous, Steven Lin, and the Roosevelt University Percussion Ensemble.  In addition to participating in several international composers festivals, which included performances at Ostrava Days, Huddersfield Contemporary Music Festival, and Bang on a Can, she has attended Stuttgart's Akademie Schloss Solitude summer residency, and has been twice invited as an Artist in Residence at the Atlantic Center for the Arts.  Contributing works to Australian flutist Janet McKay's 2009 US tour "Those Vanished Hands," guitarist Aaron Larget Caplan's "New Lullaby Project" and percussionist Joe Bergen's new works for vibraphone collection "For Semy," her compositions have been performed throughout the US and Europe by such ensembles as ICE, Ensemble SurPlus, Wet Ink, and Dal Niente.
Epstein was an invited lecturer at the 2011 Black Mountain College John Cage Conference, and upcoming activities include a new commission by Wild Rumpus, and a premiere by Wet Ink ensemble.  She continues to perform experimental music with the Chicago Scratch Orchestra, and Haptic at the Museum of Contemporary Art Chicago, WNUR live broadcasts, the Green Mill, and Elastic Arts Foundation.  As a recent winner of the Old Town School commissioning project, she will present her "Human Sound Sculpture" in January 2012.
Epstein is founder/ curator of the Chicago-based experimental music concert series "a.pe.ri.od.ic", listed as "Best of Chicago 2011" in The Chicago Reader, and has lectured as adjunct faculty at the University of Illinois at Chicago, Northwestern University, and Roosevelt University.  She is currently head of theory at the British School, instructor of theory and composition at the DePaul Community Music Division, and a piano teacher both privately and at the Old Town School of Folk Music.  Epstein holds a bachelors degree from Barnard College, Columbia University, a masters in music from New England Conservatory and a Doctor of Music from Northwestern University where her principal teachers have included Fred Lerdahl, Michael Gandolfi, Marti Epstein, Amy Williams, Jay Alan Yim, and Augusta Read Thomas.
FOR CAGE 99 (2010)
For 2 or more voices and a timer (conductor). Written for Décadanse Musique Contemporaine. Premiered at the Atlantic Center for the Arts, March 11, 2011, New Smyrna Beach, FL.
This piece is based on Cage's "On Robert Rauschenberg, Artist, and His Work" (1952).
Katherine Bergeron has taught on the faculties of the University of North Carolina at Chapel Hill, Tufts University, and the University of California at Berkeley. She joined the Brown faculty in 2004, where she was chair of the Music Department and now serves as the Dean of the College, Brown's highest undergraduate academic office.
Her scholarship has focused on French music and culture at the fin-de-siècle, the discipline of musicology, experimental music, song, poetry, opera, and film. She is co-editor, with Philip Bohlman, of Disciplining Music (University of Chicago Press, 1992), and author of Decadent Enchantments (University of California Press, 1998), which won the Deems-Taylor Award from ASCAP in 1999. In 2004 she edited a special issue on Music, Rhythm, and Language for the journal Representations. She most recently completed "Voice Lessons" (Oxford University Press, 2010), a study of French language education, linguistic science, and the emergence of the vocal art known as la mélodie française.
Bergeron's teaching and research have been animated by performance. A singer of eclectic tastes, she has performed Gregorian chant, the blues, the court music of central Java, contemporary pop music, experimental music, and, most recently, French art song.
Her newest book, "Voice Lessons: French Mélodie in the Belle Epoque" (Oxford 2010) won the Deems-Taylor Award from ASCAP in 2011, as well as the Otto Kinkeldy award from the American Musicological Society, the highest honor accorded to a senior scholar in the field.
Mark Cetilia is a sound / media artist working at the nexus of analogue and digital technologies. Exploring the possibilities of generative systems in art, design, and sound creation, Cetilia's work is an exercise in carefully controlled chaos. Over the past decade, he has worked to develop idiomatic performance systems utilizing custom hardware and software, manifesting in a rich tapestry of sound and image. Mark is a member of the electroacoustic ensemble Mem1, recipients of a 2008 Rhode Island State Council on the Arts Project Grant Award and the experimental media art group Redux, recipients of a 2006 Creative Capital grant for their "Callspace" project. He received his MFA with honors from the Rhode Island School of Design in 2008, and is currently pursuing his Ph.D in computer music and multimedia at Brown University. He has taught classes and workshops on programming, sound and video art at the Rhode Island School of Design, TELIC Arts Exchange (Los Angeles), and Spullenmannen (Amersfoort, NL).
Cetilia's work has been screened / installed at the Institute of Contemporary Arts (London, UK), the Ben-Ari Museum of Contemporary Art (Bat Yam, IL), the Sol Koffler gallery (Providence, RI), the Atlantic Center for the Arts (New Smyrna Beach, FL), and SoundWalk (Long Beach, CA). He has performed widely at venues including the REDCAT Theater at Disney Hall (Los Angeles), the Borealis Festival (Bergen, NO), STEIM (Amsterdam, NL), St. Patrick's Cathedral (NYC), Goethe-Institut (Boston), and Electronic Church (Berlin). His solo sound works have been published by Iynges, Anarchymoon and Quiet Design. Throughout their career, his group Mem1 has collaborated with a variety of artists including the Penderecki String Quartet, Steve Roden, Jan Jelinek, Frank Bretschneider, Jeremy Drake, and Stephen Vitiello. "Age of Insects," a full-length album with Vitiello, is now available from Dragon's Eye Recordings. Together, Mem1 curates the experimental music series Ctrl+Alt+Repeat and the record label Estuary Ltd.
Community MusicWorks Players is a flexible ensemble which includes members of the Providence String Quartet, participants in Community MusicWorks' Fellowship Program, and guest artists. The creation of the CMW Players allows Community MusicWorks to present more varied repertoire, include more musicians, and provide additional concerts for audiences in Rhode Island and beyond. Based on the conviction that musicians can play an important public service role, Community MusicWorks has created an opportunity for a professional string quartet to build and transform its own urban community. Through the permanent residency of the Providence String Quartet, Community MusicWorks provides free after-school education and performance programs that build meaningful long-term relationships between professional musicians, children, and families in urban neighborhoods of Providence, Rhode Island. In 2006, Community MusicWorks successfully piloted a two-year Fellowship Program in order to share its unique model with interested musicians and urban communities from across the country. A semi-annual Institute for Musicianship and Public Service was added in 2009.
Composer, violist and electronic musician Forrest Larson has composed both instrumental and electronic music. His work includes both strictly composed music and live improvised electronic music.  Instrumental works include music for string orchestra, wind ensemble as well as pieces for unaccompanied violin, viola and cello. He has had a life-long love of old pre-digital analog electronic instruments, and of collecting "found sounds" from both natural as well as urban landscapes.  Analog devices such as oscillators, stomp box filters and shortwave radios are of particular interest. Some of his works combine electronic sounds and live acoustic instruments such as cello and tuba.  Other work includes electronic scores for abstract films and for solo dancer.  His music has been performed locally at various venues in the Boston area such as Mobius, MIT, Brandeis University, and at the experimental music series CTRL+ALT+REPEAT in Providence, RI. Other performances have been at Carnegie-Mellon University, Washington and Jefferson University (PA), Mansfield University (PA), Southern Oregon University, in Ithaca NY and in Iceland. As a violist, he has played in the New England Philharmonic, Boston Chamber Ensemble, and other chamber groups.  He also played violin in the Commonwealth Vintage Dance Orchestra, performed traditional Scottish fiddle music and was the musician for the Middlesex Morris Dancers.