THURSDAY 10.22.15 / 8 PM / $5
MACHINES WITH MAGNETS / 400 MAIN ST. / PAWTUCKET, RI
CTRL+ALT+REPEAT is an experimental music series that was founded in 2004 by Mark + Laura Cetilia out of an interest in exploring the intersections of electronic music, improvisation, contemporary classical music, and sound art. The Fall 2015 edition of the series will feature the Konus Quartett, who will be presenting Jürg Frey's Memorie, Horizon, as well as Tomas Korber's Musik für ein Feld (performed by Konus + Korber).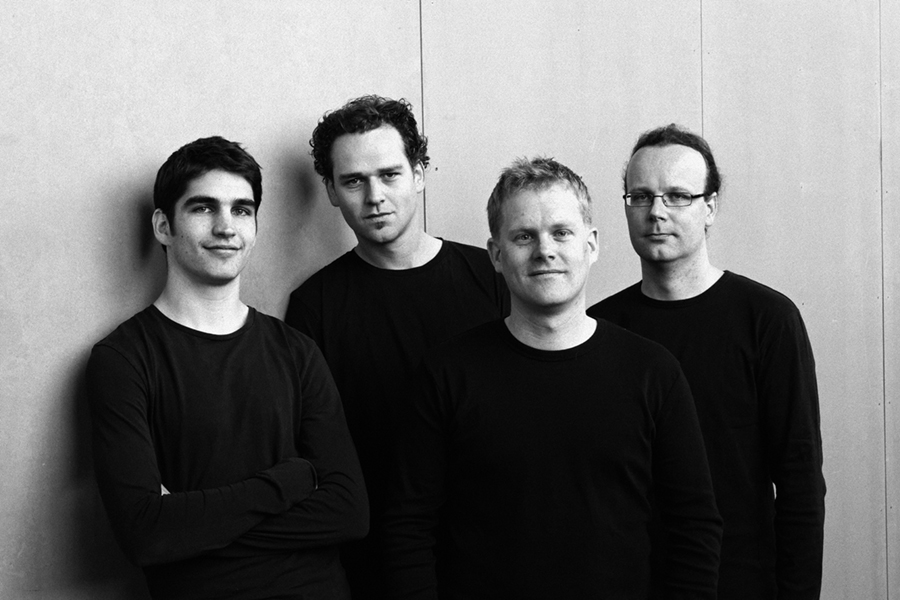 As a chamber music ensemble whose instrumentation changes frequently, the Konus Quartet engages its audience with highly expressive and idiosyncratic sounds. Contemporary original compositions are interpreted predominantly by the quartet, but these are also contrasted with pieces from past centuries and arrangements for saxophone instrumentation. The radical nature of its concert programmes has seen the quartet become established over the past 10+ years as an important voice for new contemporary and experimental music.
Composition commissions are awarded regularly to well-known artists by the quartet; to date such artists have included Barry Guy, Urs Peter Schneider, Tomas Korber, Phill Niblock, Makiko Nishikaze and Jürg Frey.
Three musical highlights serve to showcase the remarkable range of the Konus Quartet: In 2006, "La bocca, i piedi, il suono", a composition by Salvatore Sciarrino for four soloists and a hundred saxophonists, was performed in the French Church in Bern (Release 2006, Cubus Records).
A collaboration with the filmmaker and composer Phill Niblock gave rise to the composition entitled "To Two Tea Roses" which was premiered in 2013 in Switzerland in the presence of the composer.
The piece "Music für ein Feld" (Music for a Field) was the result of a composition commission awarded to the Zurich-based musician Tomas Korber (Release 2014, Cubus Records).




Jürg Frey was born in 1953 in Aarau, Switzerland. Following his musical education at the Concervatoire de Musique de Genève, he turned to a career as a clarinetist, but his activities as composer soon came to the foreground. Frey developed his own language as a composer and sound artist with the creation of wide, quiet sound spaces. His work is marked by an elementary non-extravagence of sound, a sensibilty for the qualities of the material, and precision of compositional approach. His compositions sometimes bypass instrumentation and duration altogether and touch on aspects of sound art. He has worked with compositional series, as well as with language and text. Some of these activities appear in small editions or as artist's books as individual items and small editions (Edition Howeg, Zurich; weiss kunstbewegung, Berlin; complice, Berlin). His music and recordings are published by Edition Wandelweiser.
Frey has been invited to workshops as visiting composer and for composer portraits at the Universität der Künste Berlin, the Universität Dortmund and several times at Northwestern University and CalArts. Some of the other places his work has developed are the concerts at the Kunstraum Düsseldorf, the Wandelweiser-in-Residence-Veranstaltungen in Vienna, the Ny music concerts in Boras (Sweden), the cooperation with Cologne pianist John McAlpine, the Bozzini Quartet (Montréal), QO-2 (Bruxelles), Die Maulwerker, incidental music, as well as the regular stays in Berlin (where during the last years many of his compositions were premiered). Frey is a member of the Wandelweiser Komponisten Ensemble which has presented concerts for more than 15 years in Europe, North America and Japan. Frey also organizes the concert series moments musicaux aarau as a forum for contemporary music.
MÉMORIE, HORIZON
Mémoire, Horizon (2013/2014) is for saxophone quartet and lasts about 30 minutes. It begins with long, floating notes, the quartet acting like an extended chord, the pulses quavering both in the individual sound of the reeds as well as in the massed effect. As is so often the case in his works, the tonalities Frey chooses are not so unusual–in fact, they're usually very warm and familiar–but their placement, dynamic, depth and more are so precisely and perfectly done as to render the music consistently new and surprising. It's very strange. There are also at least two other sounds in effect, both of which enhance this performance to a huge degree. One is a low, faint rumble that sounds to me like some element in the room, perhaps a large, stretched canvas on the wall, is vibrating in reaction to the sounds (absurd, I realize, but that's the impression I have). The other is a high, rustling sound, I think coming from the air pressure on the reeds themselves. As is heard later on in the clearly audible sounds of the piano pedals, these contribute greatly to the realness of the space, things that are normally edited out but happily, through design or chance, left in the mix here. The entire space becomes so much more alive and bristling. Those long notes very slowly peel off from each other, settling into a dreamy kind of chorale, maybe even with a nod toward Renaissance voicings. The baritone assumes a melancholic lead, the higher horns acting as a chorus behind, very moving. The horns coalesce into discreet, three-second, cloudy chords with a short silence between, almost processional, eventually arriving at a two-chord, calm back and forth… there's so much going on here, the transitions so hard to pin down but both feeling so right and, as said, often so moving. A wonderful, absorbing and thought-provoking work…
–Brian Olewnick, Just Outside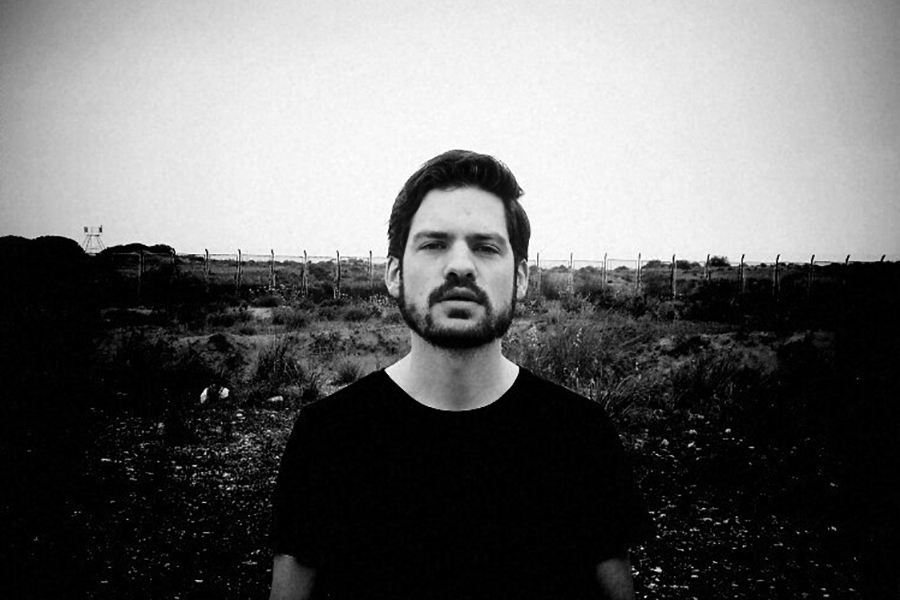 Born in 1979 in Zurich, Swiss-Spanish composer/improviser Tomas Korber has written numerous compositions and played improvised music since the early 90's. He has worked solo as well as collaborating with, among others, Günter Müller, Norbert Möslang, Otomo Yoshihide, Lê Quan Ninh, Toshimaru Nakamura, Stephan Wittwer, Jason Kahn, Thomas Ankersmit,  Sachiko M, Christian Weber, Keith Rowe, Christian Wolfarth, Kazuya Ishigami, Keith Fullerton Whitmann (aka Hrvatski), Lionel Marchetti, Charlotte Hug, Adam Sonderberg, Mattin, Taku Unami and many others.
He also composes music for theater- and film-productions (i.e. under the direction of Franz Dängeli, Kaspar Kasics, Fredi Murer, Stefan Haupt, Fanny Bräuning, Christine Hürzeler, Martin Moll etc …
In 2009 he was awarded a biannual artist residency in New York City by the Department of Cultural Affairs of the City of Zurich. Korber has studied psychology and computer science at the University of Zurich and holds a Master of Science degree.
MUSIK FÜR EIN FELD
Tomas Korber has surfaced, following a considerable hiatus. Korber had a fecund and frequently brilliant period lasting from 2003-2010, in which he appeared on about 20 recordings. It has been nearly a decade since Effacement, his last solo document, over four years since his superlative collaboration with Ralf Wehowsky, Walkurnen Am Dornenbaum, nearly four since his pairing with noise-meister Gert-Jan Prins – I can report Korber's lacunae with such specificity because I have written about all these prior works, and several others. Such has been my regard over the last decade for Korber's creative output; and so there was the concomitant piqued anticipation for the release earlier this year of his 2011 composition Musik für ein Feld, realized by Korber and the Konus Quartett.
After a number of listens I thought about the title; the premiere of the work in 2011 indeed took place outdoors, in a field. That pleased me to discover nearly as much as the tangent the music and its title triggered – recalling the metaphoric language of fields I learned of 40 years ago when I elected for a major in psychology. That is, the sense of fields found in gestalt theory – how all things live and function in spatial fields, in environments of contingency and interpenetration, shaped by many other things, appearing one way but being quite another way. Of course the core principles of perceptual relationships articulated so elegantly in Gestalt theory and practice in the mid-70s seem much less radical now. Gestalt notions about figure/ground, continuity and closure were applied chiefly to visual art, and, occasionally, tonal music; today, in many branches of experimental music, the language and practice of fields is being worked out, with interesting sonic results.
Musik für ein Feld is a long-form piece, a field of considerable expanse, teeming both with life and with powerfully felt silences; the field takes shape in the fantastic synergy between the Konus saxophone quartet and Korber's electronics. This is a suite with wildly variegated parts – sections in which the quartet's reed tones are splayed, granulated and refitted beyond recognition by Korber; sections of gorgeously sustained, clustered timbres reminiscent of Radigue; a lovely episode of rising and falling sine-like tones referencing, at least covertly, Lucier; stretches of the sort of mulched audio that pelts and stings like an ice-storm, the needle-y noise that is a leitmotif heard across many Korber releases; and, heard in their masterfully placed positions in the field, those silences.
Broken down this way, as a sequence of discrete events, only adds to the illusory nature of the field; it again brings to mind the Gestalt principles I first encountered in the encounter-epoch 70s, principles that subvert and upend the seeming solidity of what we perceive. It seems to me that Korber (and of course I have no idea from his side what he intended) set out to create a field in which 1) he composes notes on a staff (more or less) for Konus to sound (a centre), 2) he processes and mutates those sounds, often beyond recognition (the saxophone pitches attenuated, shading off, Korber's electronics surrounding the quartet with zones, auras, and spheres), resulting in 3) a new field in which the centres are unified, and the Korber/Konus gestalt, what Kurt Lewin would call their form-quality, is sounded.
Gestalt talks about trickster perceptual phenomenon like continuation (see figure above) – the intuitive sense of direction, of flow, in what is perceived/heard, despite obvious breakages, interruptions and, in Musik für ein Feld, episodes in which it seems Korber has allowed the whole to collapse into the sum of its parts ; and similarity – the intuitive sense of likeness in difference (try to maintain your grip on when the saxophone tones become sine tones, for example); and, of course, figure-ground, perhaps the most malleable element at play in much of this music.
I alternated my many listens to Musik für ein Feld with another recent release featuring the Konus Quartett, Jürg Frey / Komponisten-Portrait; I mention this in this context to simply point out that hearing the Quartett's recitation of canons and chordal harmonies , with their beautifully focused sound enlivening Frey's work, made me appreciate more deeply how much these musicians subsumed their playing to Korber's vision, how they joined their sound field with his own to make one of my favorite pieces of music in a good while. I'd prefer Korber surface again before 2018 or so, but I am cheered to hear what has come from that considerable silence, a new entry in field music I encourage you to hear.
–Jesse Goin, Crow with No Mouth