THURSDAY 09.26.13 / 8 PM / $5 – 15 SLIDING SCALE DONATION
THE ARSENAL / 176 BENEFIT STREET / PROVIDENCE, RI
CTRL+ALT+REPEAT is an experimental music series that was founded in 2004 by Mark + Laura Cetilia out of an interest in exploring the intersections of electronic music, improvisation, contemporary classical music, and sound art. The Fall 2013 edition will showcase internationally recognized Charles Curtis on solo cello performing a myriad of works, most written specifically for him. The evening will include compositions by Eliane Radigue, Alvin Lucier, Christian Wolff, Alison Knowles and Tashi Wada, who will also be making a guest appearance this evening.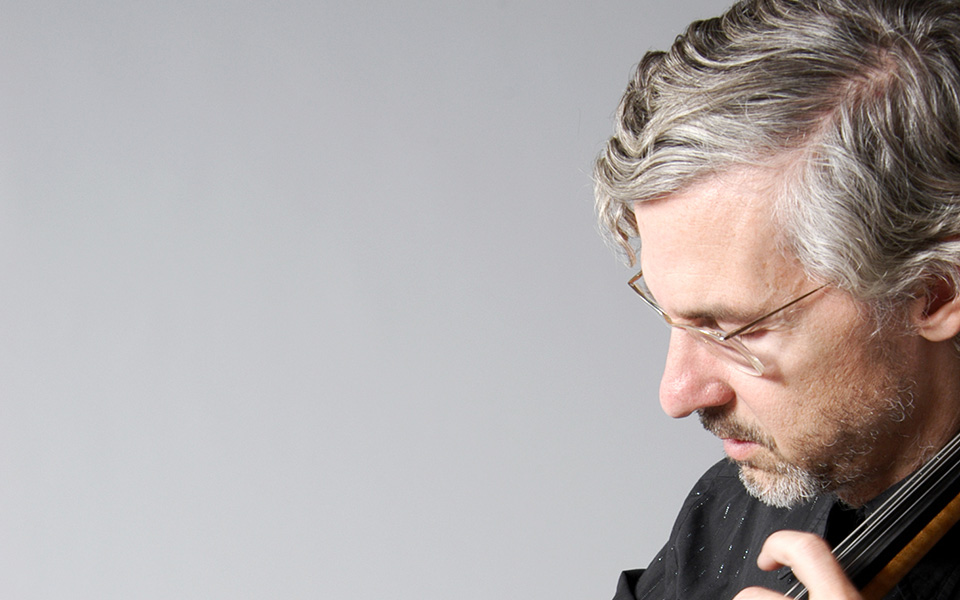 Charles Curtis is an internationally acclaimed composer and cellist, specializing in new and experimental music. Closely associated with the legendary avant-garde composer La Monte Young, Curtis directed Young's Theatre of Eternal Music String Ensemble and for a number of years was a central figure in the downtown New York free music scene. In his own work, Curtis straddles the boundaries between art rock, sound art and minimalist composition. He has toured as a soloist and has led large ensembles in concerts mixing his own works and the works of other avant-garde composers (La Monte Young, Terry Jennings, Richard Maxfield, Morton Feldman). Curtis has also enjoyed an extensive and distinguished chamber music career. At the age of seventeen he won first prize in the Coleman International Chamber Music Competition and at 19 he made his Carnegie Hall debut playing the Tchaikovsky Trio with Oscar Shumsky and Earl Wild. He has been the first cellist in the NDR Symphony Orchestra in Hamburg for the past eleven years and is a former faculty member at Princeton University. Curtis is currently Professor of Contemporary Music Performance at the University of California, San Diego.



Éliane Radigue was born in Paris, France. She studied electroacoustic music techniques at the Studio d'essai at the RTF, under the direction of Pierre Schaeffer and Pierre Henry (1957-58). She was married to the artist, Arman, and devoted ten years to the education of three children, deepening classical music studies and instrumental practice on the harp and piano at the same time. In 1967-68 she worked again with Pierre Henry, as his assistant at the Studio Apsome.
Radigue worked for a year at the New York University School of the Arts in 1970-71. Her music, its source an Arp synthesizer and medium recording tape, attracted considerable attention for its sensitive, dappled purity. She was in residence at the electronic music studios of the University of Iowa and California Institute of the Arts in 1973.
Becoming a Tibetan Buddhist in 1975, Radigue went into retreat, and stopped composing for a time. When she took up her career again in 1979, she continued to work with the Arp synthesizer which has become her signature. She composed Triptych for the Ballet Théâtre de Nancy (choreography by Douglas Dunn), Adnos II & Adnos III, and began the large-scale cycle of works based on the life of the Tibetan master, Milarepa.
In 1984 Radigue received a "bourse à la creation" from the French Government to compose Songs of Milarepa, and a "commande de l'état" in 1986 for the continuation of the Milarepa cycle with Jetsun Mila.
Notoriously slow and painstaking in her work, Radigue has produced in the last decade or so on average one major work every three years. Very recently, in response to the demands of musicians worldwide, she has begun creating works for specific performers and instruments together with electronics. The first of these was for bass player Kaspar Toeplitz, and more recently the American cellist Charles Curtis.
Radigue currently lives in France, where she continues to compose electronic music and study the teachings of the Tibetan lamas. She returns to the United States periodically to present programs of her electronic works.
OCCAM V (2013)
A new work for solo cello, part of the ongoing series "Occam River." A particular idea from "Naldjorlak I" is here focussed on exclusively, without the large-form development of the latter. An open string and its adjacent unisons and octaves are exhaustively investigated as a terrain of constantly varying resonance. "Occam V" was developed collaboratively by Éliane Radigue and Charles Curtis between January 2012 in Berlin and July 2013 in Clans, France.



Christian Wolff was born in 1934 in Nice, France. He's lived mostly in the U.S. since 1941. He studied piano with Grete Sultan and composition, briefly, with John Cage. Though mostly self-taught as a composer, the work of John Cage, Morton Feldman, David Tudor and Earle Brown have been important to him, as well as long associations with Cornelius Cardew and Frederic Rzewski. A particular feature of his music is the various freedoms it allows performers at the time of performance as well as the variable results possible for any one particular piece, for which various new notations have been invented. Underlying notions in the work are shared freedom, self-determination and democratically-spirited collaboration. The music is published by C.F. Peters, New York and much of it is recorded, on many labels. A number of pieces, starting in 1953, have been used and commissioned by Merce Cunningham and his dance company. Wolff has been active as a performer and as improvisor – with Takehisa Kosugi, Steve Lacey, Christian Marclay, Keith Rowe, William Winant, the group AMM, Kui Dong and Larry Polansky. His writings on music (up to 1998) are collected in "Cues: Writings and Conversations", published by MusikTexte, Cologne. He has received awards and grants from the American Academy and National Institute of Arts and Letters, the Ford Foundation, DAAD Berlin, the Asian Cultural Council, the Fromm Foundation, the Foundation for Contemporary Performance Arts (the John Cage Award for music) and the Mellon Foundation. He is a member of the Akademie der Kuenste in Berlin and the American Academy of Arts and Sciences. In 2004 he received an honorary Doctor of Arts degree from the California Institute of the Arts. Academically trained as a classicist, Wolff was professor of classics and music at Dartmouth College from 1971 to 1999.
ONE CELLIST (2013)
A very recent work (completed in May 2013) of about eight minutes duration, much of it a kind of two-part polyphony for a single instrument. Very fast material alternates with nearly static moments; sometimes a clear variation process is evident.
Wolff writes: "One Cellist" was made for Charles Curtis. It pushes – perhaps rather far, the furthest so far – my current way of working with fragments – about 25 of them here, variously derived – from simple gestures (bits of a tune, e.g. from a Shaker song, a children's song, parts of scales). Occasionally these fragments are interwoven with each other, but mostly they are just there, one after another. The music is presented in such a way that the performer may choose various ways of realizing it.



Alvin Lucier was born in 1931 in Nashua, New Hampshire. He was educated in Nashua public and parochial schools, the Portsmouth Abbey School, Yale, and Brandeis and spent two years in Rome on a Fulbright Scholarship. From 1962 to 1970 he taught at Brandeis, where he conducted the Brandeis University Chamber Chorus which devoted much of its time to the performance of new music. Since 1970 he has taught at Wesleyan University where he is John Spencer Camp Professor of Music. Lucier has pioneered in many areas of music composition and performance, including the notation of performers' physical gestures, the use of brain waves in live performance, the generation of visual imagery by sound in vibrating media, and the evocation of room acoustics for musical purposes. His recent works include a series of sound installations and works for solo instruments, chamber ensembles, and orchestra in which, by means of close tunings with pure tones, sound waves are caused to spin through space.
Mr. Lucier performs, lectures and exhibits his sound installations extensively in the United States, Europe and Asia. He has visited Japan twice: in 1988 he performed at the Abiko Festival, Tokyo, and installed MUSIC ON A LONG THIN WIRE in Kyoto; in 1992 he toured with pianist Aki Takahashi, performing in Kawasaki, Yamaguchi and Yokohama. In 1990-91 he was a guest of the DAAD Kunstler Program in Berlin. In January 1992, he performed in Delhi, Madras, and Bombay, and during the summer of that year was guest composer at the Time of Music Festival in Vitaasari, Finland. He regularly contributes articles to books and periodicals. His own book, Chambers, written in collaboration with Douglas Simon, was published by the Wesleyan University Press. In addition, several of his works are available on Cramps (Italy), Disques Montaigne, Source, Mainstream, CBS Odyssey, Nonesuch, and Lovely Music Records.
In October, 1994, Wesleyan University honored Alvin Lucier with a five-day festival, ALVIN LUCIER: COLLABORATIONS, for which he composed twelve new works, including THEME, based on a poem by John Ashbery and SKIN, MEAT, BONE, a collaborative theater work with Robert Wilson. In April, 1997, Lucier presented a concert of his works on the MAKING MUSIC SERIES at Carnegie Hall and in October of the same year his most recent sound installation, EMPTY VESSELS, was exhibited at the Donaueschingen Music Festival in Germany. Recently, DIAMONDS for three orchestras was performed under the direction of Petr Kotik at the Prague Spring Festival, 1999.
In March 1995, REFLECTIONS/REFLEXIONEN, a bi-lingual edition of Lucier's scores, interviews and writings was published by MusikTexte, Koln.
SLICES FOR CELLO AND PRE-RECORDED ORCHESTRA (2011)
53 orchestral instruments sustain a 53-note tone cluster in pre-recorded loops. The solo cello plays through the cluster melodically, eliminating with each played note the orchestral instrument sustaining that note, until the cluster is erased. In a new melodic ordering, the solo cello brings the corresponding sustaining instrument with each new tone until the cluster is re-inscribed; this alternating process of erasing and re-inscribing the cluster is repeated seven times. The soloist controls the pacing by activating a Supercollider patch via foot pedal.



Alison Knowles (born 1933) in New York City is an American visual artist known for her soundworks, installations, performances, and publications. Knowles was very active in the Fluxus movement, and continues to create work inspired by her Fluxus experience.
She has created work that incorporates performance, radio, and sound, papermaking, and printmaking. She briefly attended Middlebury College and graduated from the Pratt Institute in New York with an honors degree in fine art. Knowles was married to the Fluxus artist and prominent intermedia theorist, Dick Higgins, from 1960 to 1970, and again from 1984 until Higgins' death in 1998.
In 2000, Knowles began casting flax paper to make musical instruments. The Bean Turner, Rattles, and Wings and Drums use beans for sound with the aid of text, toys and silence.
Knowles studied with the painters, Adolph Gottlieb and Josef Albers and maintains a studio in New York City. She has twin daughters: Jessica Higgins, a New York-based intermedia artist closely associated with seminal curator Lance Fung, late Fluxus gallerist Emily Harvey, The Artists Museum's Construction In Process and having performed and collaborated as a youth in original Fluxus related events; and Hannah Higgins, a writer and art historian residing in Chicago, Illinois.
In 2006, her The Time Samples exhibition traveled from Venice to New York. In 2008, she performed three Event Scores at the Tate Long Weekend in London. Her Make a Salad exhibition drew an audience of 3000 people.
Knowles' Event Threads series appeared at Miguel Abreu Gallery in New York and traveled to Geneva and Berlin. She performed in Bern and Zurich in 2008. In 2009, she exhibited and performed in The 3rd Mind: American Artists Contemplate Asia, 1860-1989 at the Guggenheim Museum. In 2010 she participated in the art project Trust Me, by Gema Alava, in company of artists Ellen Fisher, Jessica Higgins and Jason Schmidt (photographer).
Knowles was appointed guest professor at Documenta X in Kassel, Germany. She also taught at Sommerakademie in Bochnia, Poland in 1990. Knowles was an Artist-in-Residence at Radcliffe Institute for Advanced Study at Harvard University in 2009.
RICE AND BEANS FOR CHARLES CURTIS (2010)
Knowles made a graphic score of hand made rice paper with lentils, bits of string and cloth worked into it. In performance, Curtis explores the natural resonance of the cello by working through the entire corpus of the instrument in a way analogous to the process suggested by the making of the score.




Tashi Wada was born in New York and lives in California. He received a degree in music composition from California Institute of the Arts following his studies with James Tenney. Wada's compositions use apparently simple structures to generate rich and unanticipated perceptual effects. He performs regularly in the United States and Europe, often in collaboration with other artists including Charles Curtis, Stephan Mathieu and his father, Fluxus pioneer Yoshi Wada. Recordings of Wada's music have been released by record labels Yik Yak and De Stijl.
LANDSLIDE (2013)
A work of variable length in which Tashi Wada manipulates a recording of Charles Curtis played back on a custom modified reel-to-reel tape deck, as Curtis performs related material. The space of the recording and the space of the performance are superimposed in such a way that acoustical differences stand out but also interchange in ambiguous ways.